Barcelona chair customer happiness
Posted on 7th June 2009 by Mark
I have always considered the Barcelona chair a classic of modern furniture: edgy but elegant. I was very much looking forward to buying one (or two) for our new flat. Obtaining my boyfriend's agreement was easy as he loved it too, particularly when we saw M also favoured them in "Casino Royale"! However, the next step was to find a chair that was within our price range but also of good quality – in other words one that was good value. A bit of internet research showed up several places that sold them but it was a headache trying to compare them, there seemed to so many different factors to consider, all of which we knew little about.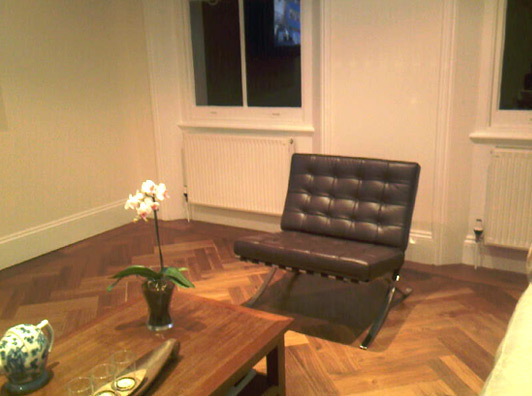 However, as soon as we clicked on Mark's site we had a good feeling. It seemed to be good value (inexpensive but not worryingly cheap) and there was a lot of information on the different things to look out for in a Barcelona chair, which seemed to indicate Mark knew what he was talking about and cared about the quality of his products. This feeling was borne out by a conversation with Mark in which his enthusiasm and knowledge reassured us that we were making the right choice. A leather swatch or 5 later and we'd decided espresso was the colour for us. Unfortunately there was only one available at the time but Mark promised to hold one for us from his next batch. Delivery was prompt and we were delighted with the chair, from the colour and quality of the leather to the craftsmanship of the frame!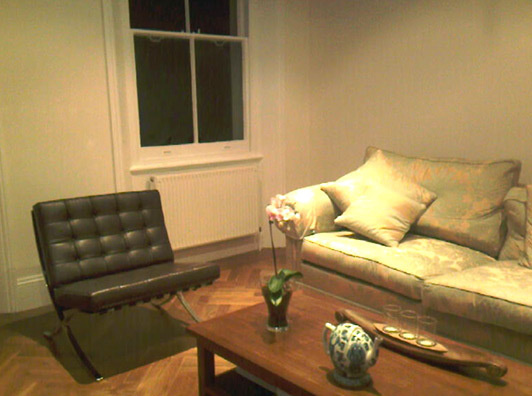 Here's a picture of our baby waiting for partner to join her!
Simona & Rob
More Barcelona chair information