When was the last time you were truly comfortable - the Womb?
Posted on 10th September 2019 by Mark
There's a running joke on social media, that the last time I had a good night's sleep was in the womb! Life can be tough, and the urge to take a 'duvet day' or curl up in a ball for a few hours can be strong. Imagine a chair that transports you to that state of mind. A chair that you can sink into, to become safely cocooned and reassuringly supported. That's the essence of the Womb Chair. This incredibly comforting – and comfortable – concept is the brainchild of Finnish-born furniture designer Eero Saarinen, who settled in the USA. He is universally respected for creating beautiful furniture that is streamlined and smart, using a shape principle known as Mid Century Modern.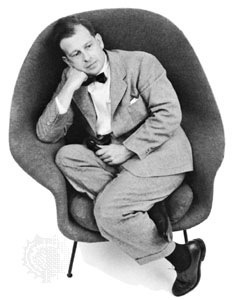 Possibly his most iconic legacy – and certainly a defining Mid Century Modern piece – is Saarinen's Womb Chair (Model No 70). It thoroughly rationalised the process of sitting comfortably, moulding itself snuggly around the human form. This photograph shows Eero Saarinen in his womb chair. I must admit I never look that suave when I nestle in its streamlined contours. Mine is more of a relieved slump....rather than Saarinen's stylish recline.
Also, this gifted furniture designer looks deep in thought within his Womb Chair. Whereas being that comfortable makes me more inclined to be entirely empty-headed and utterly relaxed!
Eero Saarinen was certainly a designer who invested much creative consideration into his work. The Womb Chair is a perfect example. While working for highly respected furniture manufacturer Knoll in 1948, Saarinen designed this rule-breaking chair at the specific request of interior design and architectural pioneer Florence Bassett Knoll. Her ideal was a chair that echoed the shape of a basket full of pillows – almost like a baby's bassinette – that could easily accommodate someone curled up to read a book.
The first version of the Womb Chair looked like this. A promising start that's for sure. However, further refinement led to the modern seating masterpiece now sold to anyone who wants to sit in a tranquil huddle.
The more recent evolution has a more synergic base; clean, simple, and highly supportive, holding that invitingly cushioned structure which is produced using a carefully crafted combination of reinforced fibreglass and fire-retardant foam. The steel legs have a polished chrome finish. You can also now buy a matching Ottoman.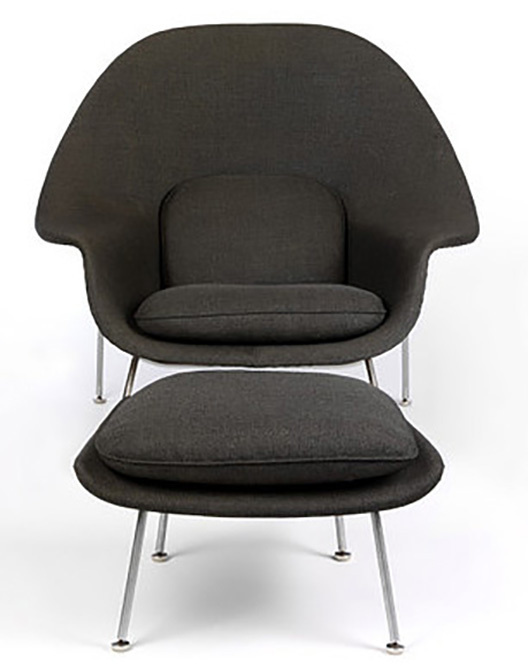 Looking down from the top of this furniture, and you can see how 'womb like' it is, waiting to cocoon owners in an oasis of calm. Of course, its visionary commissioner asked for a comfortable basket – and was entirely happy with the result. However, the theory is that the Womb Chair was christened that as Saarinen aimed to bypass the baby bassinette stage. Potentially inspired by a heavily pregnant friend, he wanted to take the chair's occupants back to the ultimate time of support, calm and comfort – the womb!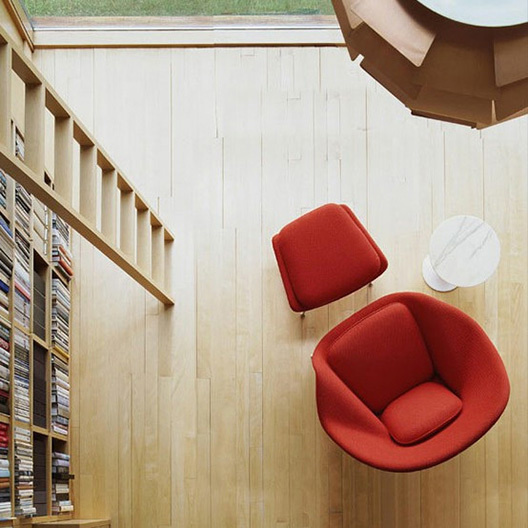 To add to this promise of ease, a combination of the Womb Chair and ottoman give you the opportunity to stretch out with this equally inviting leg support item. Different sizes of Womb Chair ensure that you can use it for curled repose whatever your body dimensions.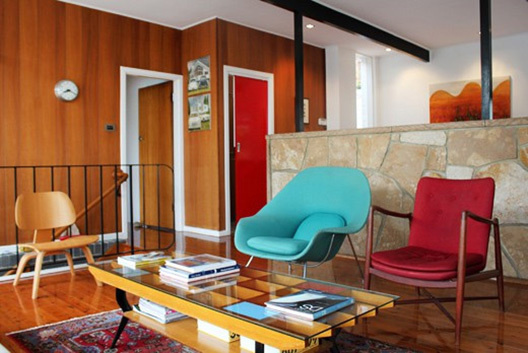 Having firmly established that this cleverly devised chair and matching ottoman are the epitome of comfort, what about aesthetics? Well, this is where the Womb Chair becomes 'exciting' as well as cosy. It comes in such a wonderful variety of colour shades and finishes that it fits effortlessly into any interior design; or you can buy a Womb Chair that suits your mood!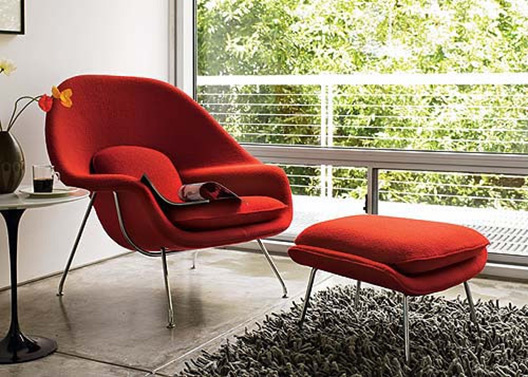 For example, make your leisure and relaxation time funky and fun, with striking options such as this fresh turquoise version, or opt for cheery cherry red.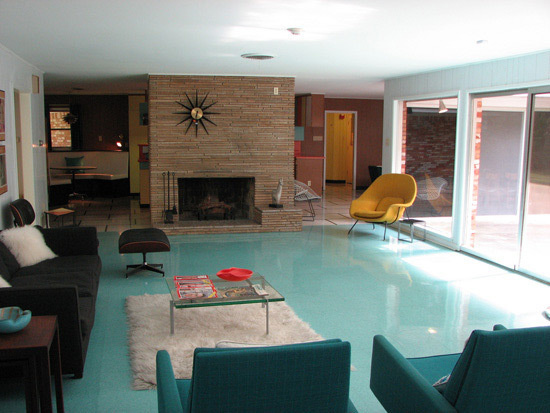 Add more examples of Mid Century Modern furniture to make this living space stylish and highly personalised to your tastes.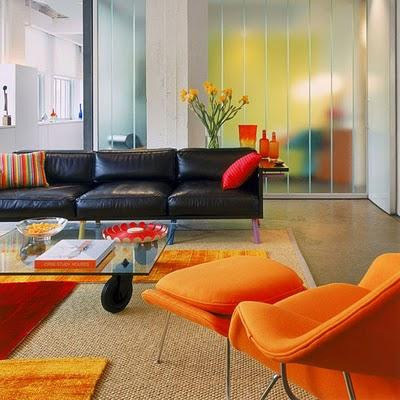 You could even make the chair the centrepiece of your room concept, such as making a statement with a glowing orange shade or a majestic mustard covering.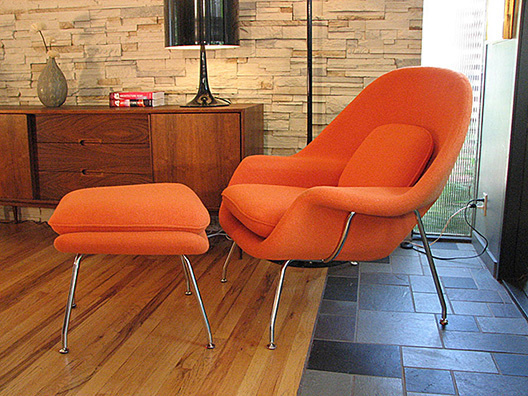 Add contrasting or complementary cushions in vibrant shades or with fun motifs, for a chair designed to stimulate creativity as well as relaxation.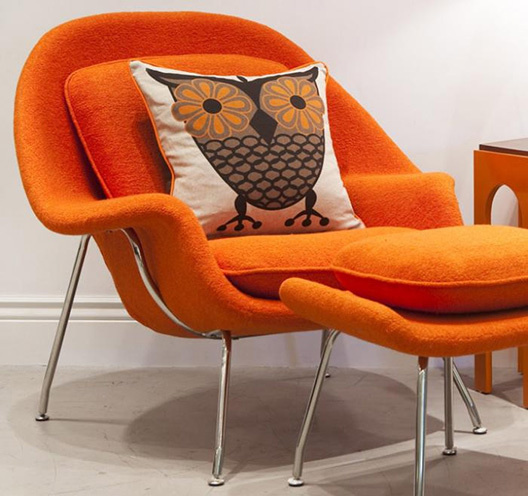 I'm not a huge fan of hot pink anything, but the Womb Chair in this colour suggests Hollywood glamour or the perfect addition to a private boudoir.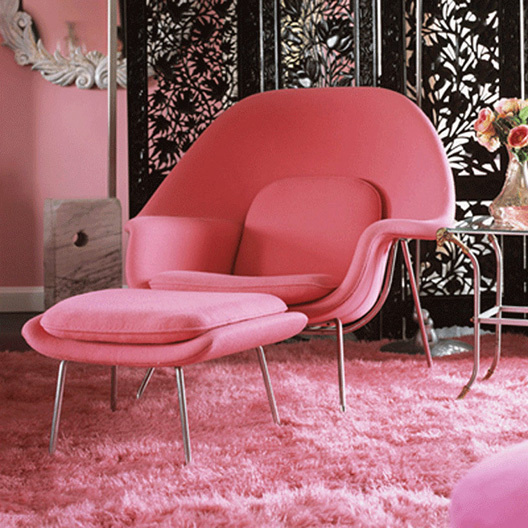 The high quality covering on the smooth contours of your stellar seating doesn't have to be plain fabric either. It's possible to reproduce the Eero Saarinen Womb Chair in patterned designs too, including vintage fabrics.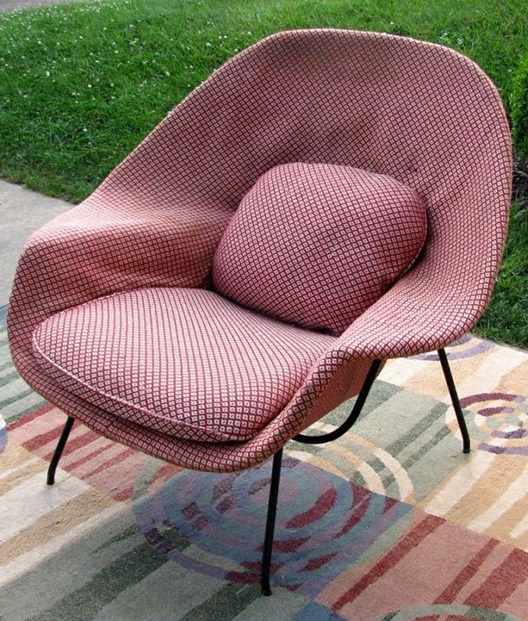 My personal favourite though, is versions of this superb chair in gentle, neutral shades.
I feel these options for finishes on the Womb Chair reflect its role as a place to go for times of quiet contemplation and rest.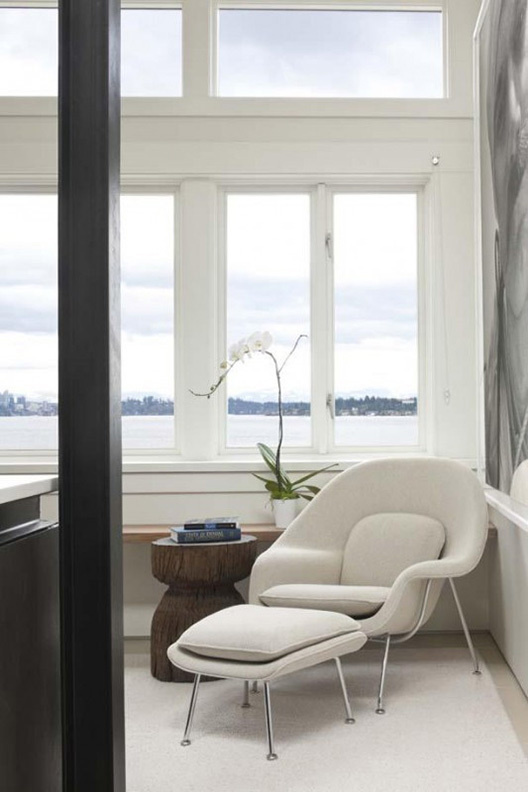 Add pastel shades, white or pale grey variations to a stylishly understated room, and the overall effect is deeply soothing for mind and body.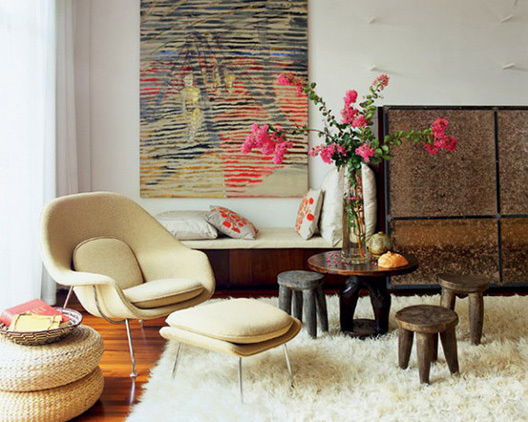 Dare I admit, that a neutral coloured womb chair in this type of setting is also the perfect place for daydreams, or catching a quick nap?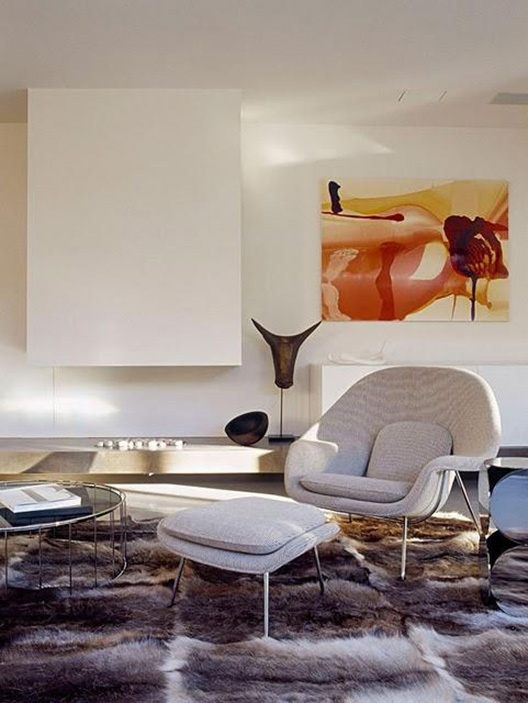 Adding a Womb Chair in a soothing colour shade to a strong interior design works brilliantly too, creating a pocket of calm. The chair's soothing design does nothing to detract from any eclectic or theme-orientated furniture that surround it.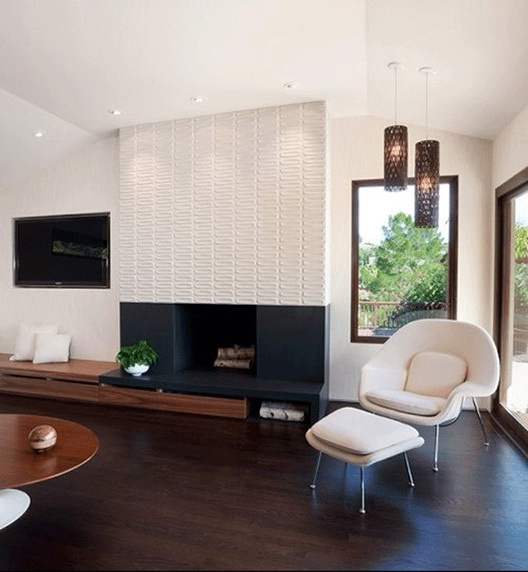 You could also blend a smooth contoured Womb Chair into many contemporary interiors by commissioning a high-quality reproduction in black or brown leather (?). That makes it the perfect addition to home offices or even business premises. Time spent curled up in supreme comfort could be the stress buster you need, to face whatever the day brings!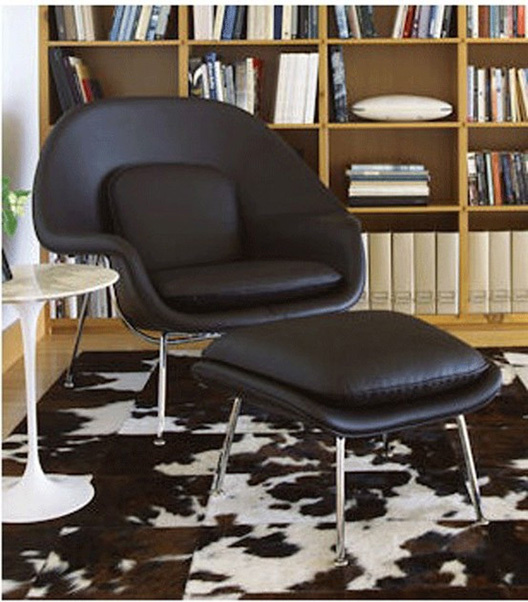 (I'm wondering whether one would fit in my office now.)
One last photo to show the genius of the Eero Saarinen Womb Chair, and indeed the man himself! If ever there was an illustration of the comfort factor encapsulated by this stunning chair, it's the sight of Saarinen's wife and son making wonderful memories in its stylish embrace.