Spotlight on Eero Saarinen - architect and furniture designer
Posted on 1st December 2022 by Mark
Do you ever wish you could peel away the layers of genius, to find how these gifted individuals came up with their wondrous creations; and the starting point of innovation?
Exploring the life and work of Eero Saarinen at least provides a glimpse of this. It also offers us a better understanding of how archetypal mid century modern furniture came to be created, with Saarinen leading the way.
From this point, we can see the evolution of some of the most influential furniture trends today, and how ageless classics such as the Womb Chair came to be.
The origins of the Saarinen craft
The early life of the most renowned designers is often the story of a myriad of experiences, study and life lessons, that add to their skills and inspiration 'store cupboard'. Eero Saarinen is proof positive of this.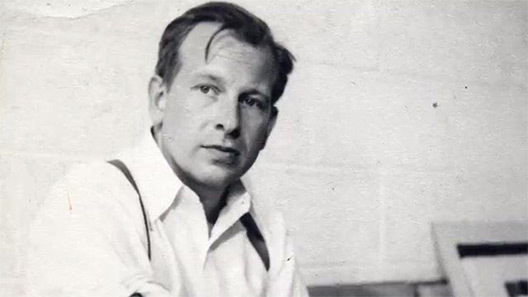 He was born in Finland (1910), but settled in the USA and died in Ann Arbor, Michigan in 1961.
This American architect, who had such a highly formative influence over experimental designs in his adoptive country, had creativity in his genes. His father was Eliel Gottlieb Saarinen, a Cranbrook Academy of Art director and dean whose acumen was key to modern architectural designing for skyscrapers, and educational and religious buildings.
His mother was gifted sculpture and textile artist Loja Gesellius.
After the family moved to the US, Saarinen attended public schools, before embarking on sculpture study at the Paris Académie de la Grande Chaumière. However, he is quoted as saying: "It never occurred to me to do anything but follow in my father's footsteps."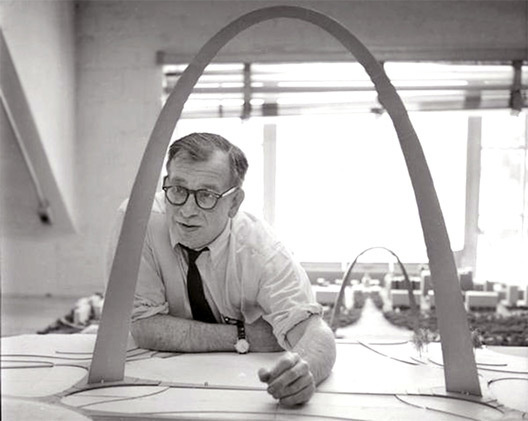 With this in mind, Eero Saarinen studied architecture at Yale University. While at Yale he won a travelling fellowship and therefore the opportunity to soak up skills and ideas from across Europe and North Africa. Saarinen added an additional 12 months to this grand architectural tour, to benefit from working alongside Helsinki architect Jarl Eklund.
After this, Saarinen was engaged in research for the Flint Institute of Research and Planning in Michigan, before joining his father's architectural practice in Bloomfield Hills in 1938.
Saarinen – known to be calm, and rather informal in his manner - went on the be married twice, first to a sculpturer and then to an art critic. He had three children.
A prestigious talent emerges
Backed by such excellent credentials and education, when was Eero Saarinen's talent for groundbreaking conceptual design first truly evidenced?
Working within his father's firm – in its various guises – Eero Saarinen played a role in a number of influential developments. This included designing Crow Island School in Winnetka, Illinois in 1940, an important building in directing the course of postwar school design.
Following his father's death, Eero's own unique views on design became more apparent, and more of his individual genius was unveiled.
This included spearheading one of his most famous architectural projects - the five major building complexes that formed the huge General Motors Technical Center in Warren, Michigan. These structures were low, precise and harmonious. Their functionality was fiercely guarded – including adding widely copied features such as curtain walls made from metal, glass and aluminium.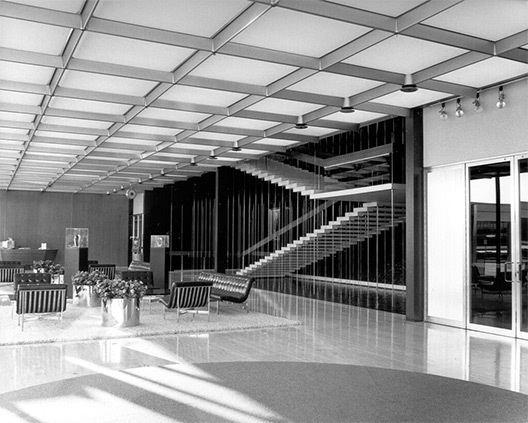 This GM development was also stunning to look at, showing clearly Saarinen's passion for making something practical and purposeful into something appealing visually.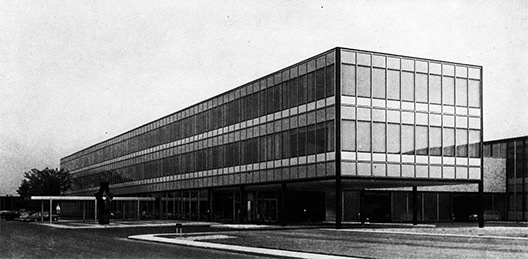 It was the same overarching aims that were displayed with aplomb in 1953, when he designed the Kresge Auditorium and chapel of the Massachusetts Institute of Technology. These public buildings were simple and effective – some critics felt they were 'forced'. Others saw how Saarinen strived to dispense with the ornamental and edifice, but instead to combine core value with aesthetic resonance.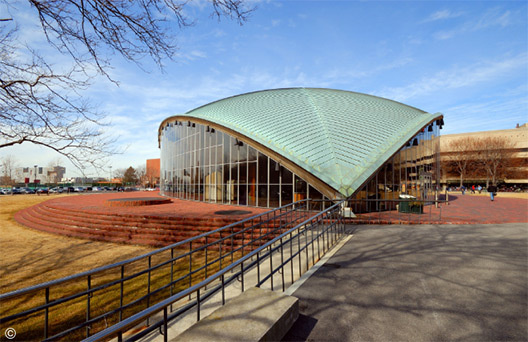 Among the other buildings he designed architectural plans for were the United States Embassy in London (1955–60), the Law School at the University of Chicago (1956–60), Ingalls Hockey Rink at Yale University (1958), the Trans World Airlines terminal at New York's John F. Kennedy International Airport (1956–62) and perhaps most famously Dulles International Airport near Washington D.C. (1958–62).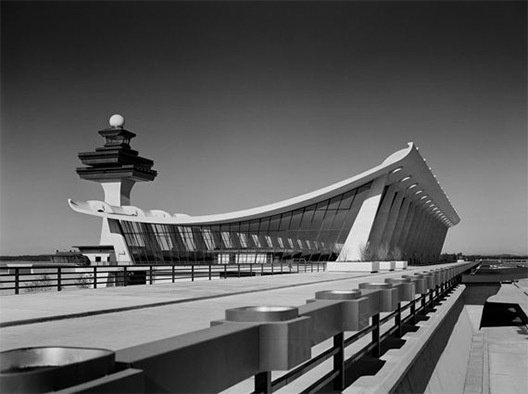 Also highly notable is Saarinen's prizewinning Jefferson National Expansion Memorial, designed for St. Louis (1948–65).
Leading mid century modern furniture; setting new standards
Have you noticed how many of the most gifted and influential furniture designers have their roots in creating beautiful buildings?
How wonderful that they condense down that creative and technical excellence – their vision for design on a massive scale - and distil it to items of everyday use, for discerning homeowners!
It would appear that Saarinen was intrigued by the idea of designing seating along the same lines as his other structural masterpieces. He wanted to create new forms that applied innovation to both problem solving and aesthetics.
In 1941 a partnership between Saarinen and designer-architect Charles Eames secured a national "Organic Design in Home Furnishings" award for a moulded plywood chair.
Seven years later, Saarinen alone combined glass fibre, foam rubber and fabric to craft the first version of his iconic Womb Chair.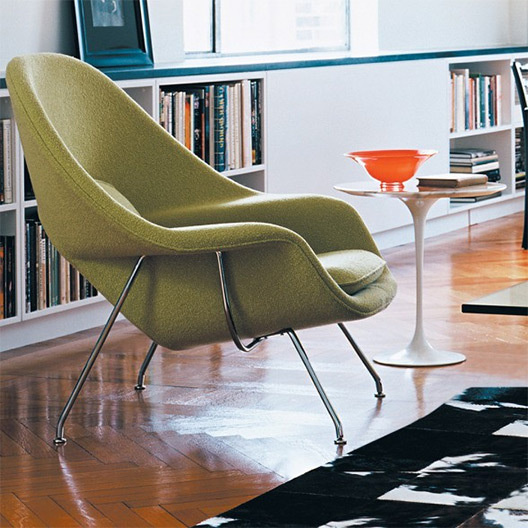 Many of the furniture concepts Saarinen crafted were then manufactured by the Knoll furniture company. The Womb Chair was actually created at the request of his long-time friend who married into the Knoll family (Florence Schust Knoll).
In association with Knoll, Saarinen also designed the Womb sofa, and other furniture themes such as the not-as-successful "Grasshopper" lounge chair and ottoman (1946).
Among the best known mid century modern furniture that Saarinen produced is the Tulip or "Pedestal" group (1956), including armchairs and dining, coffee and side tables.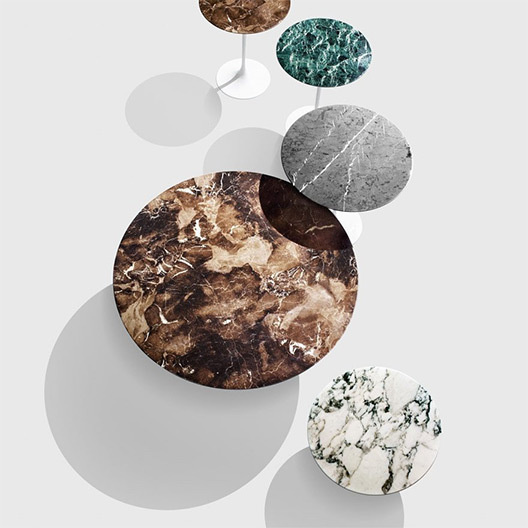 His love of experimentation - and exploration of curvilinear forms – meant that he fused together sculptural vision with architectural excellence.
This incredible insight was never shared in books, lecture tours or other public appearances. It simply lives on within Saarinen's contribution to beautiful and highly collectable reproduction furniture.
Perhaps the best summing up of his design genius is the title of the 2016 film produced for the PBS American Masters series, co-produced by his son Eric. It was called: "Eero Saarinen: The Architect Who Saw the Future."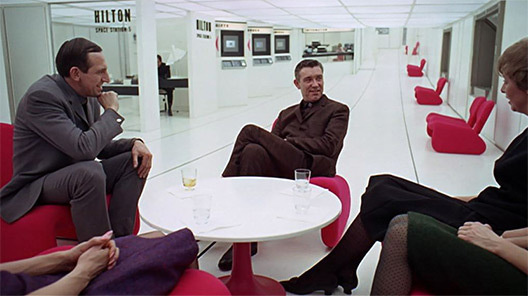 It's impossible to argue with that and is evidenced by how relevant and desirable his furniture designs are to this day.
Eero Saarinen related articles, pages and products: