Egg chair now available in antique leather
Posted on 23rd November 2011 by Mark
I fell in love with the antique leather from the outset. The first piece in our range to be upholstered in the leather was the Eames Lounger with the rosewood veneer - simply beautiful.
Since the Eames Lounger we have experimented with the Barcelona chair and the Corbusier LC2 and LC3 range. Each time the results are exceptional. Customers share this passion for the antique leather - we are forever receiving calls from customers keen to discuss the leather in more detail.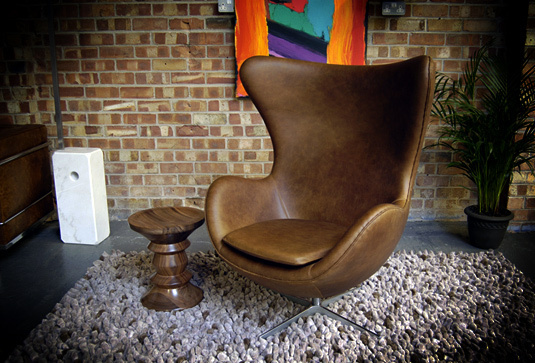 The photograph clearly demonstrates the nature of the distressed antique leather. The antique covered Egg chair is complimented by another new offering, the Eames stool in solid walnut.
Any questions relating to the Egg chair in antique leather, or any furniture pieces and leather finishes then please do not hesitate contacting us. Call 01606 871 457 or email: mark@iconicinteriors.com We love talking about our furniture pieces!