The dark brown Barcelona chair touches down – I love it!
Posted on 12th August 2008 by Mark
This week Iconic Interiors has taken delivery of a number of dark brown (or espresso if you prefer) Barcelona chairs. Sad as it may sound I get rather excited when a new colour is added to the collection. My love affair with the Barcelona chair has been a long one. Ever since I saw them gracing the apartment belonging to none other than Patrick Bateman in American Psycho. I was studying Graphic Design at Uni at the time. I found a book on furniture design in the University's well stocked library. There it was – Mies Van Der Rohe's classic chair. What a beauty! So, ever since then I have just loved the design.
So, where was I? Ah yes. We now offer the Barcelona chair in dark brown. As with all our pieces of furniture we have them photographed in the studio. In this line of business, and because we conduct much of our business online, good photography is essential. I took one of the chairs and ottomans down to the studio. Once there I busied myself with opening the boxes. Our Barcelona chair is well protected, once out of its box it is then time to remove the internal packaging. On removing the sleeves covering the cushions I knew choosing this colour was a good decision. It looks fantastic. On first appearance the dark brown could be mistaken for black – the classic colour for the Barcelona chair. The dark brown suits the design very well indeed. It oozes sophistication. Personally I find the bright white colour of the chair not to my taste. In some way it cheapens the design. Just my opinion you understand. Hey, the white Barcelona chair is very popular with our customers so who am I to criticise!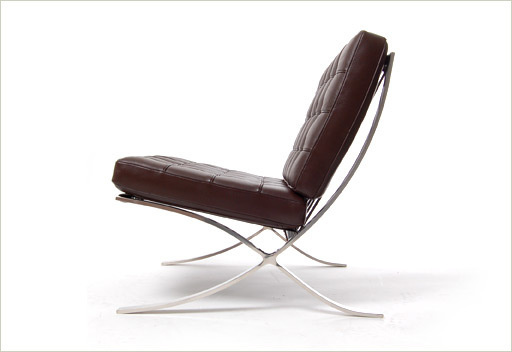 As you can see from the photographs accompanying this blog/news item the chair is just beautiful. My intention with Iconic Interiors is to stock well crafted furniture. So, not withstanding, our Barcelona chair is quite simply the best reproduction I have seen. Without going into too much detail I setup Iconic Interiors three years ago. I had thoroughly researched potential suppliers for the business. Hey, I even visited their factories to see the furniture made. This way I can see how much "tender loving care" goes into each piece of furniture.
You maybe asking why I settled for the suppliers we currently have? Well, quite simply it was the attention to detail. I'll make a bold claim here, the Barcelona chair we sell is as good as the Knoll version. Crazy I know, considering the Knoll chair is anything upwards of £2.5k and ours is currently £575 (although this will have to increase soon sadly due to, well, everything going up – raw materials, fuel etc). Let me list what makes our chair so special:


A fantastic selection of colours in semi and full aniline
The workmanship is second to none – you can see (and feel) this as soon as you see one of our chairs in the flesh. They ooze quality.


I know these Barcelona chairs will be gracing your home for many years. And with any good piece of furniture you know it'll gain character rather than fall to pieces, as is the case with the chairs sold at ridiculously cheap prices. On this point, it really saddens me when I see the bottom end reproductions. So many corners have been cut in their manufacture that the chair is simply junk. I have seen many of these chairs in the flesh and they simply fall apart after only a few months. Also they are just plain uncomfortable due to low cost cushion filling. How many people I wonder are put off by the Barcelona chair design because of these cheap versions. Very sad! Anyway, I digress, onto point 4.
What good is high quality workmanship if the materials are poor. With our chair the materials are excellent. Just you try lifting one of our Barcelona chairs. Well, you can but you'll notice they are reassuringly heavy. This is because the steel is 12mm thick and solid Grade 304. Also the cushions are filled with a very special foam which means your Barcelona chair is extremely comfortable. These weigh in at quite a weight as well.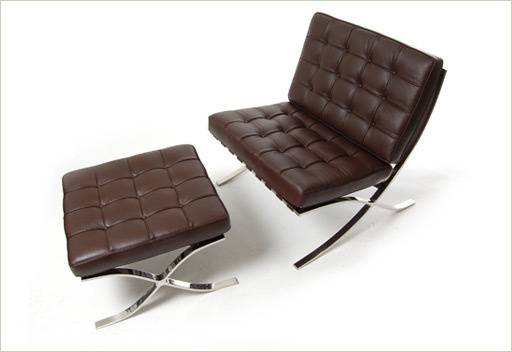 Are there anymore points? There probably are but I think you get my drift. I love the design and I love the Barcelona chairs we stock. In the three years of running Iconic Interiors we have not had one complaint about the quality of the chair. How amazing is that? This is why we can offer a no quibble return. The simple truth is that nobody returns them!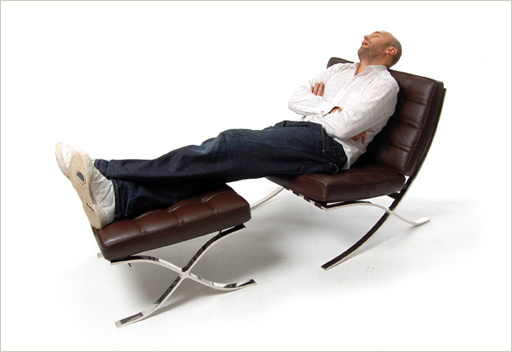 As a final word (if I still have your attention), we stock Barcelona chairs in black, white, cream, tan, brown and now espresso or dark brown. I should point out that our chair is available in many other colours. Give us a call to discuss the colour you would like. We'll then send you a swatch and if you like it hey presto, we'll place an order with our suppliers. If you have any questions about these chairs please, please, please contact us. We love talking about the furniture, this is why we run Iconic Interiors. We love hearing from our customers. Any questions either contact us through this site or call us on 01606 871 457. Look forward to hearing from you.
Further information regarding our Barcelona range can be found at our sister site www.thebarcelonachair.co.uk