LC3 Limited Edition chair: musings on a Mid Century modern masterpiece, that's achingly obvious!
Posted on 6th November 2019 by Mark
The source of my musing is a wonderful addition to our range of superlative Grand Confort armchairs and sofas. We now include a new and truly outstanding LC3 Grand Confort chair– which was previously only produced in limited numbers – in our range inspired by the designs of Le Corbusier.
This is not 'just' a piece of furniture that offers you substantial bragging rights, should you purchase a superb replica at an attractive price. Nor is owning a Limited Edition LC3 Grand Confort chair by Le Corbusier (as a licensed replica) simply the source of quiet satisfaction that you own a chair that cost its original purchasers a 'king's ransom'. Because, in addition to all of that, you also get a piece of furniture that sums up my musings – that sometimes the most basic human needs and desires, have inspired the most radically different design concepts.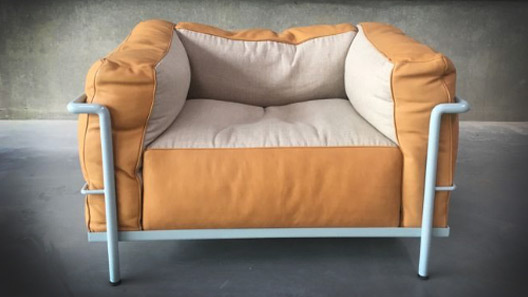 Digging down on the genius of the LC3 limited edition chair
Should you seize the chance to buy this stunning piece, you will own a chair that is genuinely designed for complete sensory appeal. It is furniture art and engineering that you will want to use, often, and for prolonged periods.
You may even find that visitors to your home or workplace are quickly tempted to try this chair, or feel the urge to squeeze it's plump, soft leather cushions or test the tactile nature of its variant surface. The combination of quality, warm tan leather and 'forgiving' canvas just beg to be touched, and enjoyed. And as we explore below, this cradle of cushions shouts 'try me!'.
Design concept behind Grand Confort chairs
There's even more good news, should you be tempted to become a modern-day owner of a piece of design history and genius. By commissioning your own LC3 chair in this limited edition version, you're buying something that epitomises the fascinating thought processes of Mid Century Modern design, and encapsulates the intellect of Le Corbusier!
It's a story that brings me back to my musings about the evolution of design mastery, the sort of inventiveness that takes the things we need as humans, to create wonderful solutions that become timeless classics.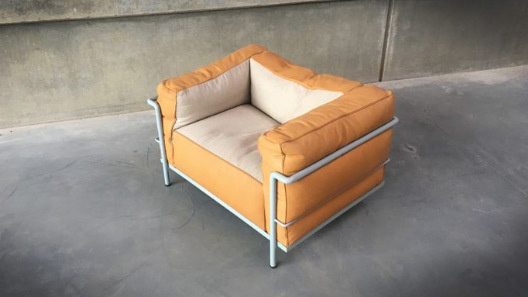 Let's take a glimpse into the mind of the man largely responsible for the LC3 chair in 1928. (There is more on his work and background within our designer profile)
On one hand, Le Corbusier was inspired by proportional systems, and designed according to ordered, predictable grids. On the other, he wanted to get to grips with forms and features that enhanced everyday life – particularly for people who lived within the fast-growing urban areas in his era. He believed that the spaces they lived in and the things they owned should enhance their standard of living.
Le Corbusier was a pioneer of modern-day architecture. There are awe-inspiring examples of his buildings worldwide, including the United Nations Headquarters in New York. However, in 1929, Le Corbusier created probably his most globally respected building, Villa Savoye in Poissy. It is believed to have been a substantial inspiration for the Bauhaus School of Architecture, an organisation, whose architectural legacy also reverberates to this day.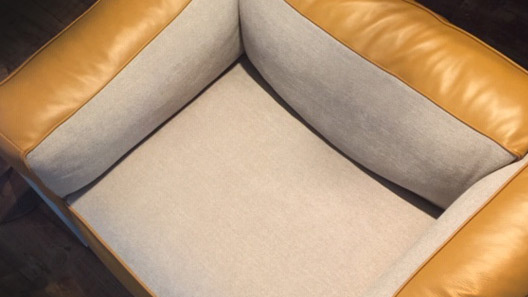 How wonderful for us, that this design virtuoso turned his attention to furniture. Including developing the concepts known as LC2 and LC3 chairs. Both have that strong, almost grid-like frame, metal bases predictable in their lines and practical in their structural form.
The two different concepts offer basic postural advantages. LC2 invites straight-backed sitting, in comfort, with support for upright repose. Whereas the LC3's wider construction and lower ratio to floor, soothes the user into a more stretched out pattern of rest. It's possible to shift around to fit our own personal preferred posture. Both variations include above their frames, a 'basket' of luxurious, high-quality cushions.
Availability of a limited edition LC3
Think about that for a moment. The basic premise of this range of tempting chairs is this. If you take a metal 'cradle', formed from soothing tubular and geometric lines, then fill it with thick and robust cushions, the result is a chair of beauty that's effortlessly comfortable.
The buying public certainly thought so, as the Grand Confort chair range was rolled out to popular acclaim. To buy modern-day chairs and sofas in the Grand Confort range, you can select from a wide range of materials and colours, to match your LC2 or LC3 piece to your interior design, tastes and 'mood' preferences!
Whatever finish you select, you get the benefits of that design paradox; soft with strong, and robust metal frames with luxurious thick cushions. It works brilliantly! The proof is in the use. The chair or sofa becomes an extension of the human form, moulding itself around the occupant's repose.
From this stroke of true genius, came the limited edition LC3 Grand Confort chair that we now sell. Just take a closer look at those cushions, so invitingly warm and cosy, with their combination of soft leather and smooth canvas. They truly are made for wallowing in! However, the use of quality feather fillers and the flawless compilation of each cushion provides 'give', without losing proper support. Over many years and even with much use, the seat, back and armrests of the limited edition LC3 will hold their substantial shape.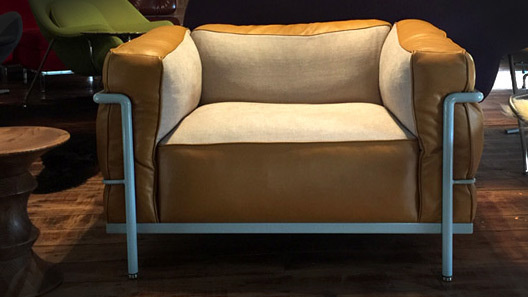 Sitting in items from the Grand Confort range, such as this compelling limited edition variant, feels like the ideal answer to a lot of questions about 'what is the ultimate chair for comfort and support'. It also takes me back to my original query, that inspired this blog. How do gifted designers see solutions that are so simple, and yet jaw-droppingly unique and beautiful?
Click for more information on the LC3 Limited Edition. Any questions please do not hesitate contacting us.