Project - Eames Stool in Walnut
Posted on 28th January 2011 by Mark
Although originally designed to be a stool, many people tend to use them as an occasional table (or a plant stand in some cases). The stool we are working on is the Model A. There are 3 designs in the collection, each with differently designed mid sections. At this stage the woodturner has made a small sample. He has used Mahogony (a hard wood) for the top and bottom sections and soft woods for the mid section. He has done this to demonstrate the number of pieces of wood used to create the interesting diamond patterns. In total 21 pieces of wood have been used in the sample.
It's a lovely piece to hold. I'm toying with the idea of keeping this on my desk as a kind of executive toy. I find myself holding it throughout the day marvelling at it's intricate design.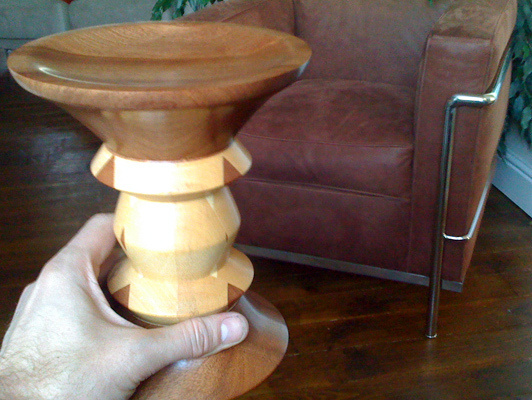 Now that we are happy with the sample we will be moving onto the next stage of producing a full sized version. For this we need to source a quantity of walnut and believe me it is a very expensive hardwood. We'll keep you posted of our progress. We hope that within the next couple of months to be able to offer these pieces.
Also notice in the photographs another new piece we are adding to the Iconic Interiors range. This is the Le Petit Confort chair with a duck down top cushion upholstered in a brown nubuck leather. An incredible looking piece - oh, and very comfortable to boot!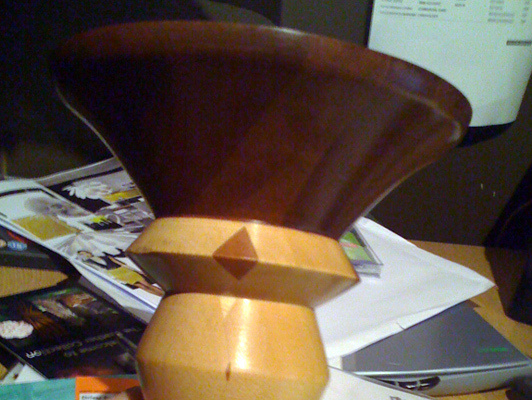 If you have any questions regarding our Eames stool then please do not hesitate contacting me - we are taking orders. I can be emailed at mark@iconicinteriors.com or contact us on 01606 871 457.