Walnut Eames Stool Introduction
Posted on 26th October 2011 by Mark
I have been wanting to offer a reproduction of the Eames stools for some time. The difficulty was finding a supplier who understood the true complexity of this design. Each stool is made up of at least 25 pieces of solid walnut. These pieces are joined together in such a way as to give the stool its unique appearance. You'll notice from the photographs each individual piece and how the grains run in different directions. These different directions create wonderful patterns. This is enhanced by the unique patterning of the American walnut hardwood.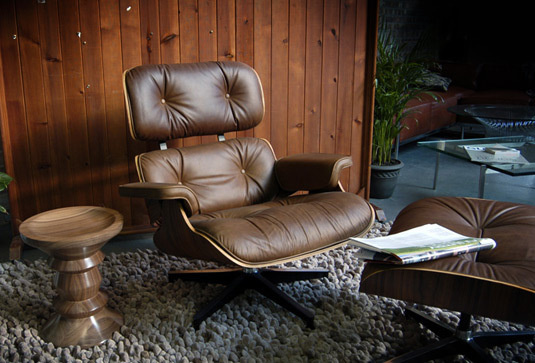 It has been such a rewarding experience watching the stool take shape. Before embarking on this project I knew very little of woodturning. Over the year it has taken to produce the stools I have sat down with the woodturner many times discussing the ins and outs of the Eames stool. The quality stool is incredible. I'm sat at my desk writing this piece with the first completed stool sat beside my keyboard. I cannot take my eyes off it. It's such a visual feast!
Due to the nature of wood each Eames stool will be uniquely different. For each stool we will offer a number of detailed photographs. This way customers can pick and choose which variation they prefer.