Style News: Good Housekeeping magazine blown away by our Bubble Chair
Posted on 18th August 2009 by Mark
Part of our retro furniture collection, the Bubble Chair put the swing in 'swinging sixties' – literally. A hanging chair, made from a steel hoop and blown-fibreglass, the bubble has graced the homes of countless designers and celebrities since the late 60s, including Donatella Versace and Nina Hagen. Great for fashionable clubs, restaurants, homes and ultra-modern workplaces, the Bubble Chair takes the fun and fashion of the sixties and gives it a chic twist.
Even when filled with comfortable cushions, the Bubble's fibreglass dome allows light to pass through, but dims sound, creating a bright oasis of calm in the noisiest of settings. Swinging in the Bubble Chair can bring peace and inspiration: try it for yourself.
You can see Twiggy enjoying one of our Bubble Chairs on the cover of this month's Good House Keeping, and discover inside why this classic piece of sixties furniture is continually enjoying a style revival. The Bubble Chair isn't just for the stylish world of the sixties supermodel: it will accentuate fashionable spaces for decades to come.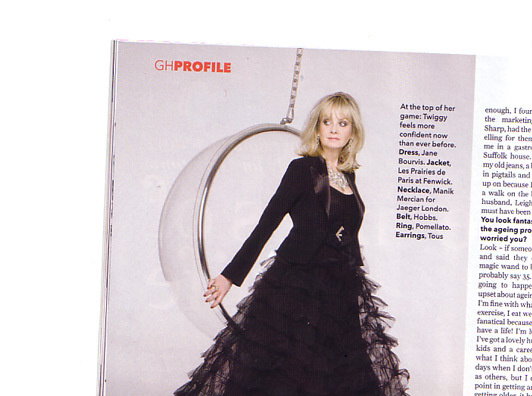 Although demand is high for our Bubble Chairs this month, we still have a few in stock for immediate dispatch to style lovers who want the newest latest thing – from years ago. Click here to order your Bubble Chair today.