A photography student captures the sixties era with our Eero Aarnio Ball Chair
Posted on 12th June 2008 by Mark
From time to time we at Iconic Interiors are asked to donate furniture for a variety of exciting projects. Our furniture is often seen on television commercials, Channel 4 programmes such as How to Look Good Naked and Grand Designs Live, films and we regularly contribute to ITVs Sixty Minute Makeover (60mm). Obviously we are not going to shy away from a bit of free publicity. Oh no!
We were delighted then to have Rebecca Rickles contact us requesting the use of our Eero Aarnio Ball chair for a day's shooting. Rebecca is currently studying photography at the Humberside University.
The objective of Rebecca's photography project was to capture the photographic style which surrounded the Ball chairs introduction in the sixties. The chair's introduction was made at the 1966 Cologne Furniture Fair. Aarnio's Ball chair was an instant hit. It was so much in tune with the pop, futuristic and playful vibe of the era. Art directors wanted it on the cover of their magazines, stars like Grace Kelly, Bing Crosby and Sammy Davis Jr ordered them for their homes.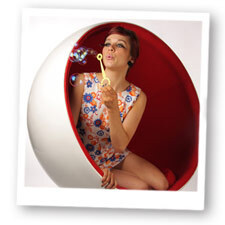 Rebecca has collected a number of iconic photographs of the chair taken during the sixties. Recruiting friends as models Rebecca has achieved stunning results and has captured the sixties style fantastically.
Rebecca was very pleased with the work and was very appreciative of our help. Such collaborations give the Iconic Interiors team a warm feeling inside. Rebecca gets to photograph our iconic Ball chair and we get some incredible promotional photographs!
Priced at £569 and in stock our Ball chair represents excellent value. We work closely with our suppliers to ensure a high quality chair which will provide you with many years of enjoyment. Our business is built on customer satisfaction - do not accept cheaper alternatives, you'll be sorely disappointed. If you have any questions about our Ball chair please do not hesitate contacting us either by telephone on 01606 871 457 or by filling in our contact us form.