PK22 Chair Antique leather experiment
Posted on 6th October 2013 by Mark
The PK22 chair in the thick antique leather we chose looks stunning. We decided to embark upon this in-house project because a customer had asked if we could supply the PK22 in a certain leather. The customer provided the photograph below of an original Poul Kjaerholm PK22 chair. The chair is now enjoying pride of place in our Knutsford showroom.
I have noticed there is a pattern developing with these in-house furniture projects. I develop an attachment. I was asked the other week if I would sell the Bamberg Barcelona chair we have in the showroom. I instantly thought I couldn't possibly let this piece go. It has a great deal of sentimental value. Each of these projects have a story and I would like to think this pattern continues.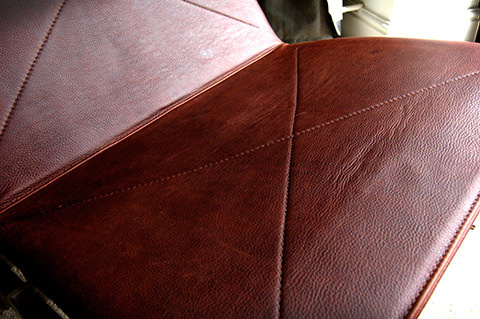 The PK22 chair we have had upholstered in England is not for sale. It'll take pride of place in the Cheshire showroom but I couldn't possibly sell it. As corny as it sounds it is part of the Iconic Interiors' journey. This collection is slowly building; we have the jumbo corduroy Eames Lounger, the Eames Walnut Stool, the Bamberg Barcelona chair and now the PK22 chair. What a lovely collection!