Mark is running the Great North Run 2012 for the Guide Dogs charity
Posted on 13th June 2012 by Mark
In the words of Monty Python, now for something completely different. This news item is more of an appeal to ask our customers, visitors and all those with a benevolent streak in them to sponsor me in my attempt at completing the Great North Run this September in aid of the Guide Dogs. I have enjoyed running for a number of years and have decided that I'd like a charity to benefit from my masochistic streak, and the more I learn about the Guide Dogs and the work they do the more I realise just what an amazing organisation they are.
A guide dog provides freedom and mobility for a blind or partially sighted person, but the lifetime cost of a dog is £50,000. I'm hoping to raise as much money as possible for this fantastic cause, but £600 provides guide dog training for one visually impaired person, so I have made this my target. For someone obsessed with the aesthetic I simply cannot imagine life without sight and I therefore believe that an organisation like the Guide Dogs, who receive no government money and are completely backed by donations, are worthy recipients of my efforts – and your donations!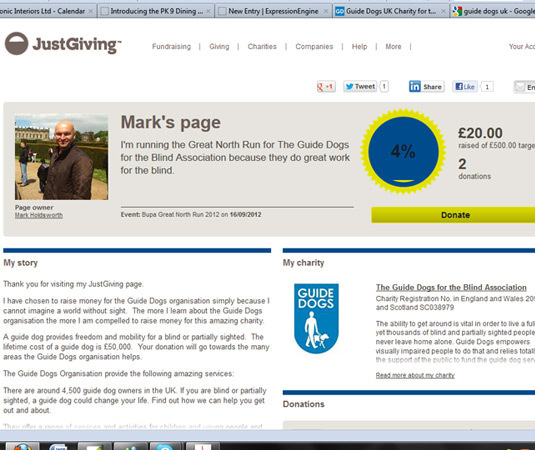 The run itself, from Newcastle to South Shields, is thirteen gruelling miles in length and represents my first attempt at a half-marathon. For those who want to come and witness my pain first-hand the run is on 16th September 2012 with the start time around mid-morning. It is very easy to donate through my Just Giving Page at www.justgiving.com/mark-holdsworth, and a donation of whatever you can manage, be it ten pence or ten pounds, will go towards helping this fantastic charity and supporting the sterling work they do.
Thank you.