Eames lounge chair brown leather
Posted on 26th April 2010 by Mark
After a detailed style assessment, we decided that the more we saw brown shades of the leather adorning the Eames Lounger, the more we liked it. So we're now delighted to announce these fantastic new colours as part of the Iconic Interiors collection. It's available to customers right now. Click here to see the new shades of the Eames Lounger for yourself.
At Iconic Interiors, we pride ourselves on understanding our customers' sophisticated tastes, and we've been confident that the Eames Lounger satisfies every key style note from the moment we saw it. However, we had to be equally certain that the build of this piece remained very high quality. Luckily we weren't disappointed. The rich-brown, full-aniline leather is of superb quality and a wonderful visual compliment to the wood of the veneer, which is available in either rosewood or walnut. These two woods are very strong, high grade materials, and only used on the highest quality furniture. Quality checks complete, we are now delighted to offer the brown-leather Eames Lounger on the Iconic Interiors website.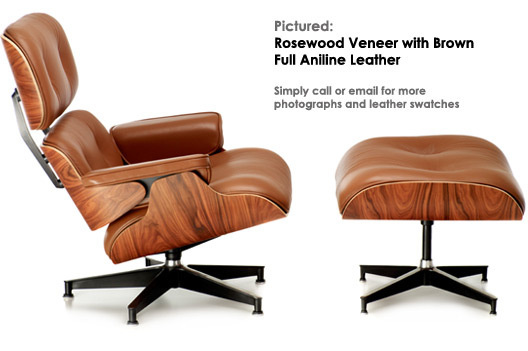 Fresh back from our photographers, here are two examples of the beautiful Eames Loungers covered in tan and brown full aniline leather.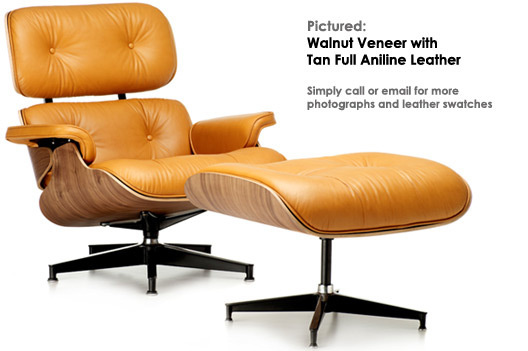 We'll be offering this stylish item in a number of shades of brown, from a very light 'tan' colour to a rich mid-brown and also a very fashionable mid-brown distressed leather finish. This distressed option has already been so popular that we're also offering this finish on our Barcelona chairs, which look amazingly stylish and 'of the moment' with the worn-in look. The leather, of course, remains high quality and new, despite looking well worn. The leather is brushed with beeswax for a cosy, matt appearance and feel. Healed scars are evident to complete the vintage/distressed look.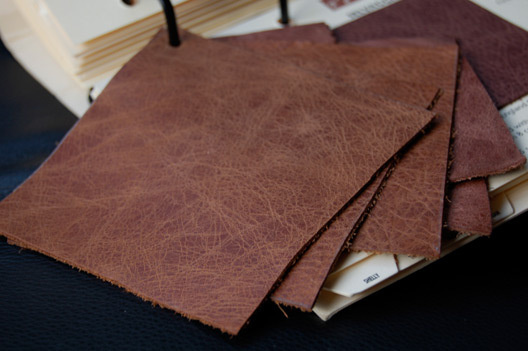 News update: Due to customer demand, we'll soon be offering the Eames Lounger with a polished, aluminium base for the ultimate clean, modern look. Check the web site during June/July this year for the aluminium version of this stylish Eames lounge chair.
As well as the beautiful Eames Lounge chair, we stock a wide range of designer chairs. Feel free to browse our online shop or contact us if you have any questions about our any of the furniture pieces.